Some memories of Radiofax and Radio Caroline written by Andy Burnham, aka Andy Parka and Joss Stick.
---
Radiofax and Radio Caroline Memories from Andy Burnham

RADIOFAX

The making of the Sparks media and technology news programmes

The first technology and media news programmes were made for the first Radiofax pilot broadcasts over Easter 1988.

The first programmes that I helped to make were recorded live at Trevor Brook's place, on his lovely vintage BBC mixer, which Trevor has kindly supplied a photo of. I was a student at the time, and had become friends with some people from Loughborough Campus Radio, which is still going online and on the better frequency of 1350 AM. More tales of the 'fun' we students had attempting to broadcast on 963kHz against Radio Finland and Radio Monique another time.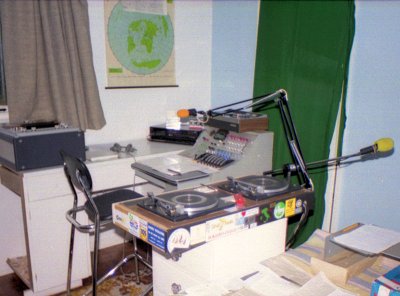 Radiofax studio in 1988, with a restored vintage BBC mixer. Painton quadrant stud faders - pull forwards to increase volume.

Anyway, I had sent my CV off to Surrey Electronics looking for student summer work, having found it in a directory of electronics companies in Surrey. Trevor contacted me to explain that they had no work for me at the time. However, he had seen the interests I had listed and how would I like to get involved in a radio project?

A recording session would start with me picking up the days' newspapers from a little shop in West Horsley, Surrey, before zooming dangerously over the North Downs on my moped. Other than that, my main recollections are of being very nervous, fluffing my reading too often, causing far too many tape rewinds. I also remember being amused at how Trevor tossed the newspaper and magazine clippings straight into the bin having read them, whereas I still have folders of these in the loft!

We found some of these early programmes as we went through the tapes archive.

The later transcribed programmes are from the period when I took over the production of the technical and media news programmes, coined the name 'Sparks' and chose a funky electronic theme tune called 'Tender Force' by the band Space *, who are remembered as a one hit wonder with the song Magic Fly.

* There is an anoraky anecdote attached to this record, in that it is a white label which I acquired with a large van-load of discarded promotional records from a well known East Midlands radio station. Virtually every one was completely obscure and destined for the bin, but this one stood out as an unusual and a unique theme. It has been a great feeling to find it again in the old record box when writing this; in fact, it has provided a useful way to check the playback speed of the tapes before transferring them to hard disc.

I selected and read my own news items, combining them with many read inserts provided on tape by Trevor. These went well together to create a 'double header' style presentation in the traditional style, as you will hear. In addition, there was often content from other broadcasters, like Bob Tomalski, to be included as well. Add a very varied selection of music and you have a very listenable formula.

By this time I had a 'proper' job as an Electronics Design Engineer (ironically working for Reuters, although there was no connection with what I was doing at Radiofax). I was renting a small maisonette near Hinchley Wood station with my wife to be, Ruth and also David Johns whom I had been at university with. Clearly this was not a threesome that was going to last and David moved out a few months later having got fed up with the mess we left in the kitchen! After volunteering for some years with Eclipse FM in Sutton, and a career in IT, David went on to work as a presenter for KMFM in Kent and then became one of the correspondents for Meridian TV's local news programme. Back in 1991 David did a few programmes for Radiofax, some of which we hope to find in the archives.

The point of revealing these domestic anecdotes is to explain how I (for a short while) had the Sparks 'studio' set up on the long dressing table of Ruth and my bedroom, and so Dave's moving out provided the opportunity for a dedicated studio at last. The fact that Ruth has put up with such anorak antics in the years to follow is a great testament to her patience and understanding. Later programmes were recorded from a tiny 6x8 foot box room in our flat on the top floor of a rambling old house in Camborne Road, Sutton, Surrey, by which time Ruth and I were married.

At around this time I 'designed' the Radiofax logo, I put that in quotes as I can now reveal that I borrowed the graphic design from a postcard book of old radios.



The Radiofax logo which Andy created and Trevor's daughter with a Britain's Number Two Short Wave Station T shirt

Looking at the Radiofax logo, the hardcore radio enthusiast or transmitter engineer will realise that the valve is not a transmitter valve but one from a TV line output stage. This is a fact that has come to haunt me over the years. However, there is a very simple explanation. I had an old box of valves that my physics teacher had given me, so it was natural to look amongst these for inspiration. The logo was drawn in old-fashioned indelible pen (Rotring) on cartridge paper. Not being the greatest artist in the world, I wanted to simplify the design as I knew that trying to follow the curves of an 813 bottle valve would turn into a disaster.

Fortunately Trevor (after taking great glee in pointing out my 'error') accepted this logo *, possibly because he could not face drawing an 813 either. Of course, in these days of computer paint programmes things would have been different but this was the world of 1991.

* Coincidentally, Trevor had in fact once used five paralled PL509 TV line output valves in an economical 500 Watt transmitter on a small A4-size circuit board, for Radio Jackie in 1985. Photo.

Thinking about it, this is one of the things that has attracted me back to this project. As well as being a nostalgic time for me, as you will have read above, it has also struck me how very different the early 90s were to today. At the risk of stating the bleedin' obvious, we had no e-mail and no internet at all, unless you were an academic, which we weren't *. All our listener contact was by post. It would be an exaggeration to say sack-loads, but certainly great bundles of it each week. How quaint this all seems now. And if you were hankering after being a real DJ, the first thing you had to learn was how to cue up a 7-inch single record, leading to the advanced skill to cue up and play a track from a finely spaced 'Greatest Hits' album LP, not forgetting to put the mixer channel fader back down at the end so that the next song doesn't come blaring out just when you least expect it.

* Going back to the late 80s, I do remember another of the strange characters from the university radio station (the place attracted them) telling us excitedly how he received messages down at the Computer Centre carrying news from other universities (early internet newsgroups) 'What's the use of that?' the rest of us thought, and besides, going down to the Computer Centre was an extremely un-hip thing to be doing in your spare time.

I must admit that I have put off going through these old programmes for many months, indeed years, as it seems such a huge thankless task. However, once I got listening they made a fascinating snapshot of what was going on up to 1992 in the radio world, which is now long enough ago to be of historical interest. I hope some snippets are of interest to you too.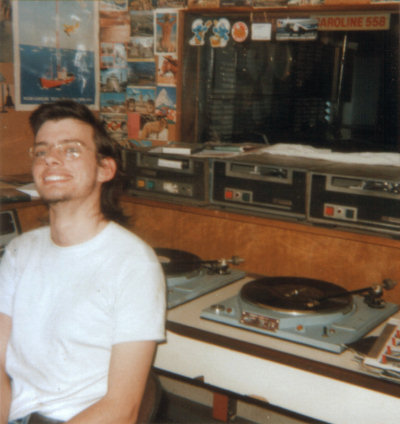 Andy Burnham, as Andy Parka and Joss Stick on Radio Caroline in 1989

RADIO CAROLINE

I was on the Ross Revenge from early June 1989 until the end of July 1989. Around when I arrived several of the DJs had had a falling out and left the ship in a hurry. This proved a great opportunity for me and I was kept very busy working nights. My timetable for a typical weekday was as follows:

7pm Get up
8pm - 12am Tape op for the religious shortwave service while getting records out
12am - 4am Present Caroline 819 Overnight Alternative programme as Joss Stick
5am - 6am Type up the news for the breakfast show
6am - 9am Read the news for Rob Harrison's breakfast show
9am - 1pm Present Caroline 558 programme as Andy Parka
1pm Transmissions shut down for mast engineering work. As I had been up all night I was excused from mast building and went to bed instead. However I did help Australian Mike Dundee video some mast building on his VHS camcorder. That footage has never materialised, although there is some video by Coconut (Mike Dixon) available from the same period.

That was very enjoyable but exhausting! I was reluctant to leave when I saw that old friend Andy Bradgate was coming on board but by then the decision was made. He was joined, I think for the first time, by listener-turned presenter Melanie McArthur. As it later transpired, I had left on the last tender before the notorious raid of August the 19th. Ironically, had I stayed on board my name would probably have gone down in the anorak annals, instead of being destined to being forgotten.

Strangely enough, around 2012 a character called Dave started auctioning off his old off-air recordings from Radio Caroline. He had a vast collection from the late 80s so I watched them, J.R. Hartley like, in the hope of finding one of my old programmes. Lo and behold, one turned up and better still it was one featuring my alter ego Joss Stick, broadcasting on the incomparable Caroline 819.

Caroline 819 was a short-lived, updated version of Caroline Overdrive, masterminded by Rob Harrison, Paul Shelton and Andy Bradgate (in the guise of Colin W. Mueslibar) and by God did it Rock!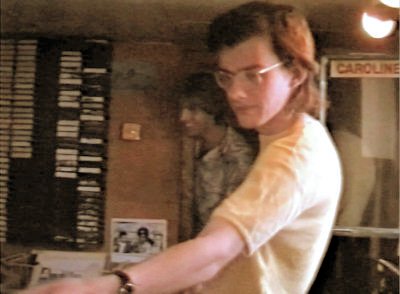 Andy Burnham going through listener letters just delivered to Radio Caroline in 1989

Reception of Radio Caroline was very poor in Loughborough, especially when it was on 963kHz, as this was shared by the university radio station (not one of the DTI's better suggestions) and Radio Finland came booming in during the evenings. I first came across a wound frame aerial in the room of one Arnold Gibbon (not his real name) who at the time lived in the Cayley Hall of Residence. This strange character was using the frame aerial to cancel out the 963kHz from the university loop antenna (not very hard as these were renowned for being of very low power). This was strange because Arnold was a DJ on the very radio station he was trying to cancel out and he was straining to hear another radio station through the mush caused by Radio Finland. This was my first introduction to the anorak pulling power of Radio Caroline!

A DJ colleague from LCR was off earning money as a club DJ in Leicester. He was easily the coolest dude on the airwaves of Loughborough. Those old enough to remember the Hofmeister bear (later banned from beer advertising for being just too cool) will get the idea. Now cool is not a word I usually like to use as it is such a terrible cliché but it just fits him down to a tee. Mr Cool, as he shall be known, did a typically cool thing, in bumping into a 'real' DJ, named Paul Graham. Paul came down and did some programmes on LCR, and introduced us to some of his friends from the Leicester area who were to return for regular programmes over the years. As became clear when we got to know them, they were enthusiasts from the landbased AM pirate radio scene.

Unbeknownst to us, one of Paul Graham's interests in coming up to Loughborough was essentially as a talent scout looking for new DJs able and willing to go out to Radio Caroline. He rang Mr Cool to ask if he would like to go. Mr Cool was about to do his final exams at university so had to decline, but he remembered Arnold Gibbon and his frame aerial and told Paul he knew some other student DJs who would be keen to go. One of these was Andy Bradgate (not his real name, but named after Bradgate Park, just outside Loughborough). He was also doing his final exams but fortunately he had rather a different attitude to studying than did Mr Cool.

Andy Bradgate was very tall and very thin from years of his unique style of 'fishatarian' cooking. He had, and I believe has to this day, a long black felt coat that at the time he would wear almost permanently. It was so stiffened with dried beer and other detritus so as to appear as a kind of 'exoskeleton' on this waif-like man. He had (and again, has), long black curly hair which would flow down over the coat such that on a dark misty Loughborough night it would make for a ghostly silhouette not unlike the Prince of Darkness himself. It must be no coincidence that Andy Bradgate was later to shake off his 'fun loving' image to become the self-styled 'Steve Satan', scourge of the airwaves.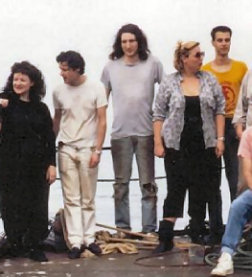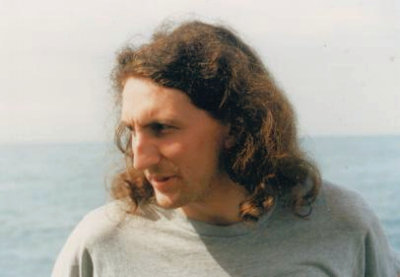 Andy Bradgate a.k.a. Colin W Mueslibar and Steve Satan on Radio Caroline in 1989

Despite his somewhat crusty exterior, Andy was generally a clean character. In fact my recollection of the condition of his huge black coat is rather unfair as I now distinctly remember him washing it in the washing machine at our shared house. I remember the water turning as black as Guinness, although I suspect this must have been the dye being washed out rather than the remnants of Andy's favourite drink! Either way, I don't think any of the parties in this encounter have been the same since.

Andy Bradgate got in touch with Caroline's Peter Moore... and the rest is history.

I remember listening enthralled to these overnight Radio Caroline programmes from my bedsit room in Loughborough using a 2 foot square frame aerial that Arnold Gibbon had showed me how to make. It made a welcome change from Radio Luxembourg, but in those days I was not a true anorak. Initially the purpose of listening was not so much to listen to Radio Caroline but to hear how my friend Andy Bradgate was getting on - but of course I was bitten by the bug.

Going back to the frame-aerial wielding Arnold Gibbon, he was not one of the Loughborough contingent to go out to the Ross Revenge, but he did fulfil his dream of DJing on Radio Caroline in the 1990s under the name he is best known as: James Barclay. Subsequently he did regular programmes on Johnny Reece's 'Album Zone', both on the web and on various radio and satellite outlets over the years. I once had a bizarre experience tuning the radio around late at night (as one does) whilst on holiday on the very northern tip of the Isle of Skye around 1999. A faint signal came through that was 'The Album Zone'. The next day I discovered this was an overnight sustaining re-broadcast from the Isle of Lewis radio station 'Isles FM' and listened each night while we were there.

Johnny Reeces' Album Zone DJ Richard Bismarck also presented programmes on the 90s RSL incarnation of Caroline and he was another an ex Loughborough Campus presenter (not DJ - that was considered far too common by the rather 'holier than thou' students who managed the station at the time).


Two photos of Andy Burnham on Jubilee FM in Redhill, June 1994
---
| | |
| --- | --- |
| | Aerial Warfare or How the Pirates Put 1 Over Auntie by Jamie Mandlecau, Club International, 1973 - an early overview of offshore and land based pirate radio looking at the 'Great Free Radio Battle' of Caroline, London, 390, 355, England, Scotland, Radio City, Essex, 270, Mercur, Nord, Tower, Invicta, 227, Atlanta, Syd, RNI, Noordzee, Capital, Veronica, Albatross, King, Sutch, Hauraki, Jackie and Geronimo versus the government. |
---
---